Fourier Analysis is a mathematical tool which can do a number of things: separate out signals from noise; help identify patterns or trends in data; filter out all unwanted data and focus on a single signal; use approximations to make generalizations; make approximations of real world signals (think electronic music); combine harmonics to get a stronger signal. That's what I'll be trying to do here!! Won't you join me with your comments?
Saturday, February 9, 2008
How Much I Knew about the Red Boots' Road Trip...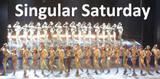 Jenn-in-Holland
is full of surprises. So is
SMID
!! For more surprising words, come play with us
here!
Posted by

Fourier Analyst
at 2/09/2008 11:36:00 PM