Fourier Analysis is a mathematical tool which can do a number of things: separate out signals from noise; help identify patterns or trends in data; filter out all unwanted data and focus on a single signal; use approximations to make generalizations; make approximations of real world signals (think electronic music); combine harmonics to get a stronger signal. That's what I'll be trying to do here!! Won't you join me with your comments?
Saturday, March 15, 2008
Where Life's Entropy Has Stalled Me...
...Limbo.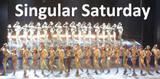 Can't find words for what's going on? Maybe just one will do! Come play along at
Jenn's place
!
Posted by

Fourier Analyst
at 3/15/2008 01:37:00 PM