Fourier Analysis is a mathematical tool which can do a number of things: separate out signals from noise; help identify patterns or trends in data; filter out all unwanted data and focus on a single signal; use approximations to make generalizations; make approximations of real world signals (think electronic music); combine harmonics to get a stronger signal. That's what I'll be trying to do here!! Won't you join me with your comments?
Saturday, November 24, 2007
What I Felt When Tasting Pumpkin Pie for the First Time in 15 years or so:
...Bliss!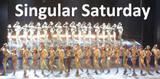 Jenn
lets anyone play in her backyard, so come join the fun!!
Posted by

Fourier Analyst
at 11/24/2007 02:03:00 PM